This archipelago of wonderful islands and coasts will make you fall in love, with these 15 best places to visit in indonesia.
1. BOROBUDUR: Ancient Mahayana Buddhist temple on the island of Java, built in the 9th century and UNESCO World Heritage.
2. PRAMBANAN: Temple with more than 500 monuments, dates from the ninth century and is very extensive.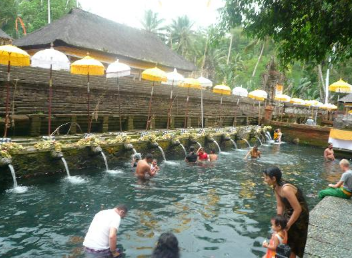 3. DIENG PLATE: Here you will see numerous boilers, at a height of 2,000 feet, several temples, hot springs and wonderful views.
4. KOMODO ISLAND: You will see the largest lizards in the world. You will also enjoy excursions and spectacular weather.
5. ISLA MANADO TUA: With much Dutch influence, it presents elegant centers and the second largest Christ in the world.
6. TANAH LOT: The most important temple in Bali. You can also visit a spectacular golf course.
7. UBUD MONKEY FOREST: You will observe the customs of the long-tailed monkeys, highly respected in Bali.
8. BALI SAFARI AND MARINE PARK: This park offers a walk through its 40 hectares with 80 species and surrounded by nature. You can stay in a luxurious hotel.
9. KAWAH PUTIH: The white sulfur lake is an attraction that is located near Bandung. You can take a walk and buy sulfur stones.
10. ANCOL DREAMLAND: You will find a golf course, hotel and visit the Maritime Museum, the Kota Intan Bridge and the historic center.
11. ISTIQLAL MOSQUE: The most visited and extensive of Southeast Asia, with capacity for more than 120,000 people.
12. JAKARTA HISTORY MUSEUM: Enjoy its 37 rooms with more than 23,000 collections of prehistory and the Dutch colony.
13. KRAKATOA: It is the most touristic volcano in Java, along with the marine park. Its last eruption was in 1883.
14. MONASTERS: It is the most impressive obelisk in Jakarta with 132 meters and 35 kilograms of gold at the tip.
15. RAJA AMPAT: It presents the largest coral reserve on the planet.
Visit http://www.whattodoindindonesia.com/ and get to know 15 of the best places to visit in Indonesia.